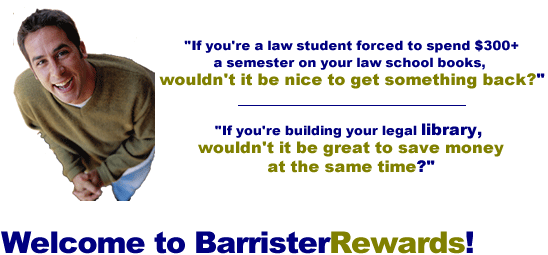 Welcome to LawRewards!
At BarristerBooks.com, we have an enormous number of loyal customers who come to us to purchase all of their pre-law, law school, attorney practice and do-it-yourself law books. They know only BarristerBooks.com offers the widest selection combined with the fastest shipping. The LawRewards program is our way of saying "thank you" to our loyal customers for bringing us your business and to encourage you to always think of BarristerBooks.com when you need law books!
It's simple: every time you make an online purchase from BarristerBooks.com, we will deposit LawRewards points into your account. You can accumulate and redeem these points on future online BarristerBooks.com purchases, thereby saving money each time you shop with us. The more you buy, the more you save! Read Our Complete LawRewards Policy.
How do I earn LawRewards points?
LawReward points are earned on each online purchase you make at BarristerBooks.com after April 1st, 2004. On every online purchase you make at BarristerBooks.com, you will earn LawRewards points equal to the dollar amount of your order (after any discount or gift certificate redemption is applied, but before tax or shipping charges are applied), rounded down to the nearest whole dollar amount. For instance, if you purchase one item with a price of $9.95 and you redeem a 10% discount code, your order subtotal (before any tax or shipping) would be $8.96 and you would thus earn 8 LawRewards points on your purchase. LawRewards points are automatically deposited in your account following your checkout. LawRewards points are not earned on the shipping or tax amounts included in an order. In addition, LawRewards points cannot be earned on the purchase of gift certificates.
How do I redeem LawRewards points?
If you have at least 1 LawRewards point in your account, upon checkout of your next online purchase you will be asked if you would like to redeem your LawRewards points on your current purchase. You must redeem a minimum of 1 LawRewards point and you will receive $.01 off of your order total for each 1 LawRewards point you redeem. For instance, if you purchase one item with a price of $9.95 and you redeem 100 LawRewards points, you would receive $1 off your order and your order subtotal would be $8.95 (before any applicable tax or shipping).
Is there a minimum amount of LawRewards point required for redemption?
Yes. You must redeem a minimum of 1 LawRewards points in order to receive the applicable order discount.
What if I return an item or items which earned me LawRewards points?
For any item returned pursuant to the BarristerBooks.com Return Policy, the LawRewards points earned on the purchase of that item will be deducted from the customer's account at the time the return is processed.
Can I earn or redeem points for orders placed via fax, mail, phone or international orders?
Because the LawRewards program is entirely regulated through the BarristerBooks.com web site, only online orders qualify to earn or redeem LawRewards points. Orders placed via mail, fax, phone or international orders do not qualify for the LawRewards program.
How can I check how many LawRewards points I have earned?
LawRewards points can be viewed in Your Customer Account.
Do LawRewards points expire?
As of March 1, 2016, LawRewards points earned will expire automatically one (1) year after the date they were accrued, if unredeemed as of that date. All unexpired LawRewards points earned prior to March 1, 2016 expire no later than March 1, 2018.
Can I transfer LawRewards points to another person or account?
LawRewards points cannot be transferred from one individual to another, nor can they be transferred from one account to another, even if both accounts belong to the same individual.
Besides redemption value, do LawRewards have any monetary value?
LawRewards points have no monetary value besides the discount applicable when redeemed on an online purchase.
Are there ever LawRewards promotions (i.e. double or triple LawRewards point promotions)?
Yes! Several times during the year, we offer promotions where you can earn 2x and even 3x LawRewards points on your purchases. In addition, we occasionally will distribute LawRewards points to customers who participate in our surveys.
Is there a limit on the number of LawRewards points I can earn/redeem?
No. There is no limit to the number of LawRewards points you can earn redeem. However, you cannot redeem more LawRewards points than your order total amount.